Manjari v2.0 Released
A new version of popular Malayalam font - Manjari released. This version includes a few bug fixes and glyph additions. The new version can be downloaded from SMC Fonts. Read more about this release by designer Santhosh Thottingal on his blog post.
New Version of mlmorph is Now Available
Santhosh Thottingal released an update for Stuttgart Finite State Transducer (SFST) based Malayalam morphological analyzer. This release includes migration to Python3, latest version of SFST. Read more about the new version of SFST here and about mlmorph here.
OpenData Day 2021 by Open Data Kerala
Open Data Kerala conducted a panel discussion on the topic, "Open Data for Kerala's Future" on 10th March, Open Data Day. The panel featured various speakers including Kavya Manohar, Manoj K., Naveen Francis and Ark Arjun. Read more about this event here.
Assembly  constituencies of Kerala - 2016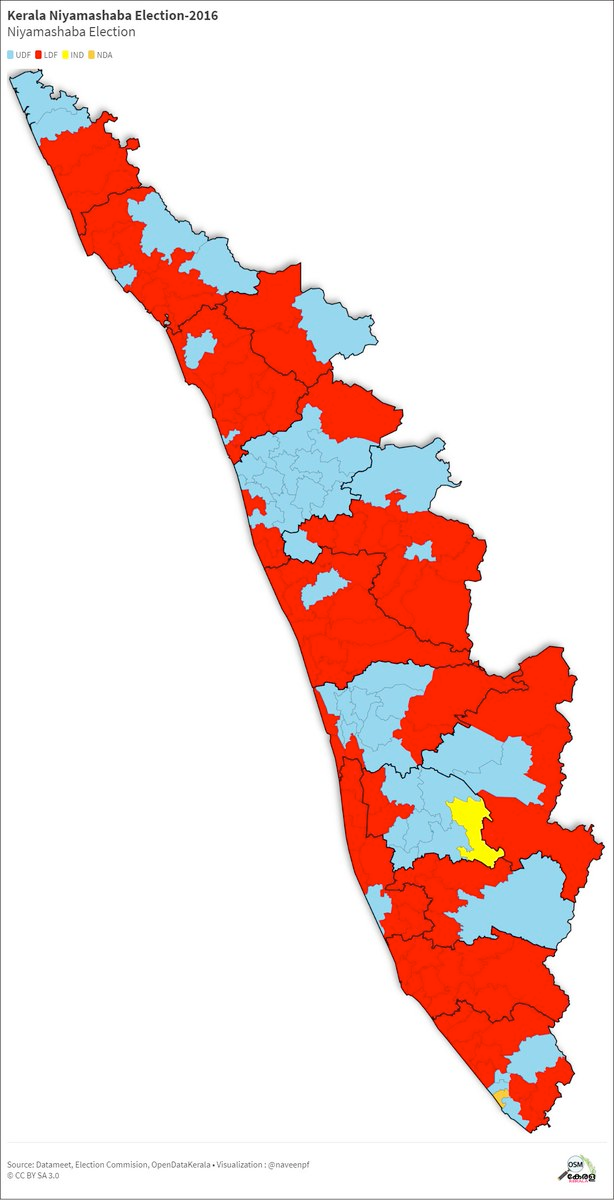 Open Data Kerala community with OSM Kerala compiled map of election trends for 2016 Kerala assembly elections. Visualization and data were released.
SMC Chatter: Discussions Archive
SMC chatter - public archive the SMC chat group (Telegram/Matrix) discussions. The project is built on tg-archive by Kailash Nadh. More details about the Chatter can be found at Community.
Ecosystem News
2021 India International Virtual Summit
Anivar Aravind participated in a panel discussion about Personal Data Protection Act at 2021 India International Virtual Summit conducted by ITechLaw on March 17, 2021.
Shabta Thaaravali Web Version
Web version of Shabta Thaaravali is now available at http://stv.sayahna.org/ and a searchable lexonomy server is available at https://dict.sayahna.org/stv. Developed by Sayahna, the XML corpus of the project is available with free license.