Foreign Word Detection in mlmorph
Python library for Malayalam morphological analyzer -  mlmorph released version 1.2.2 with foreign-language word detection.
It is tricky to identify words transliterated to Malayalam from a foreign language. Even though Pattern matching approach we employed to detect foreign-language words does not guarantee a 100% accuracy, new changes brought 12% increase in word coverage. mlmorph is capable of tagging 794924 out of 1402757 words and and their generative, agglutinations and combinations. Detailed documentation is available on  project lead Santhosh Thottingal's blog post.
Malayalam Writing Learning Portal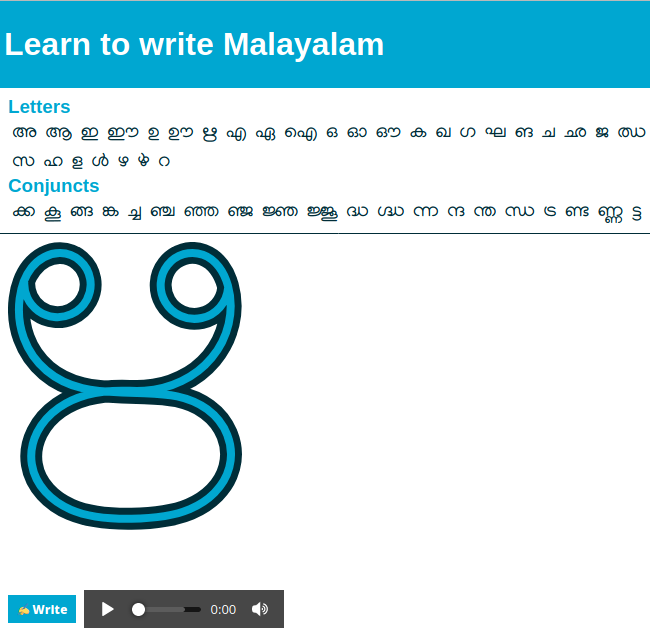 Santhosh Thottingal developed an online utility to help people learn writing Malayalam letters. This highly opinionated tool helps to pronounce as well as shows how to write each letters with path animations. This beta portal is available for public at learn.smc.org.in.
Signal localized to Malayalam.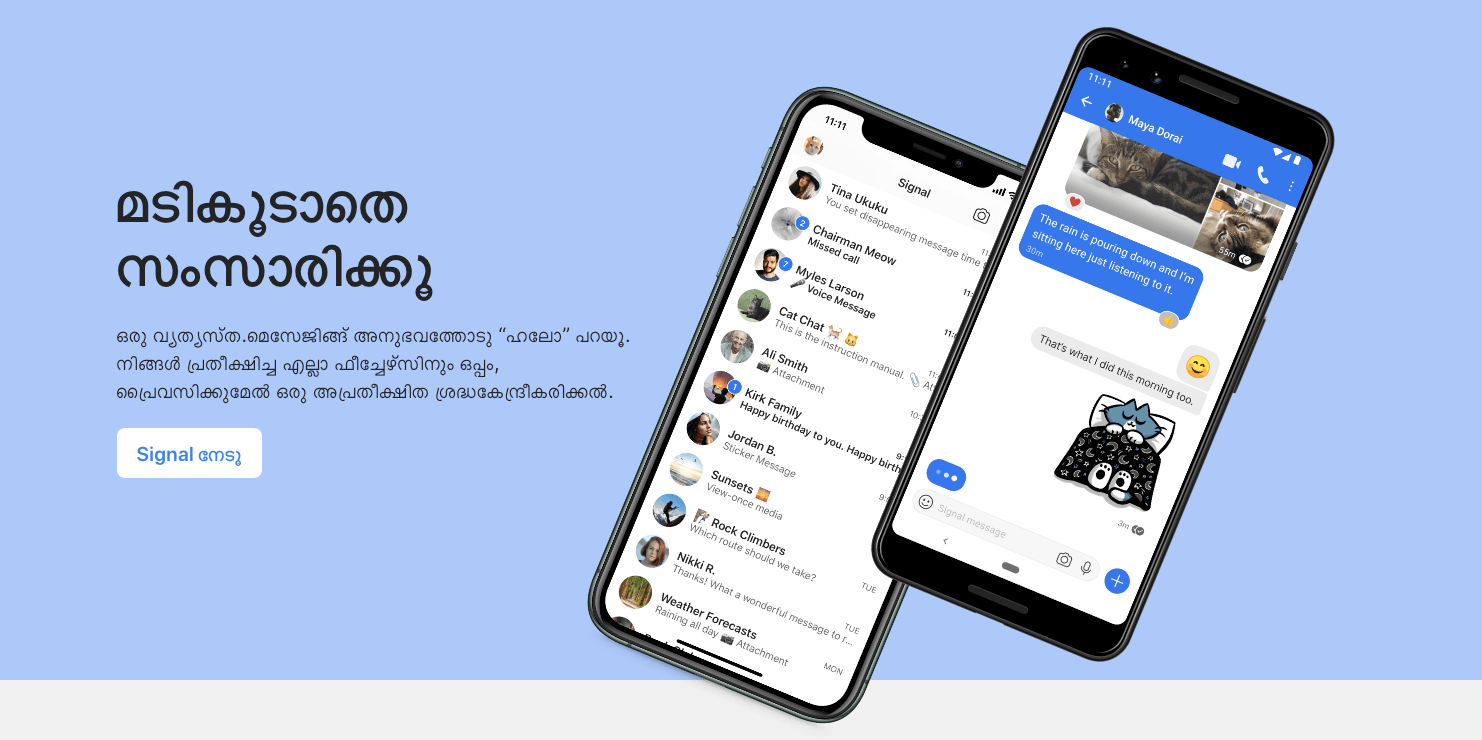 Signal is a privacy focused, free and open source messenger for mobile phones and Desktops. Our contributers  localized Signal's application and website to Malayalam. A big shout-out to  Vachan Panicker, Balvir Chand, Kiran S, Kiren Paul, Vishnu CP, Albin Sam, Adithyan Peringode,  Akhil V, Anoop, Arjun AR, Balasankar C, Chris Francis, Cool Hand, Emmanuel Francis,Jibin Jacob, Abhijith R Mohan, Mallu K, Bijin Das, Murali V, Sooraj K, Thomas Tharakan and Vivek KJ for their valuable contributions.
SMC Projects Featured in Malayalam Manorama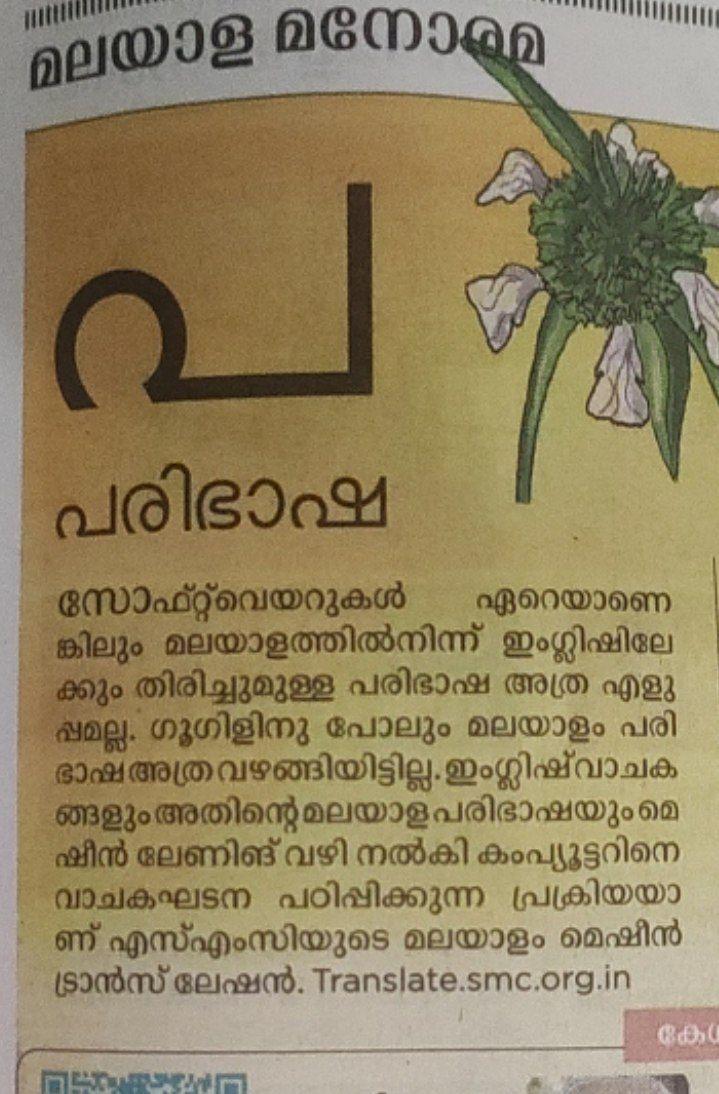 On November 1st - Kerla formation day, Malayala Manorama - A major Malayalam Daily showcased translate, learn, mlmorph and other SMC projects. Manorama Online - Showcased SMC efforts narrated by Santhosh Thottingal.
Ecosystem News
Documenting happenings around Free Software, Malayalam and digital commons, which may not be direct contributions from SMC volunteers.
Open Data Kerala Released LSGI Kerala Map Dataset.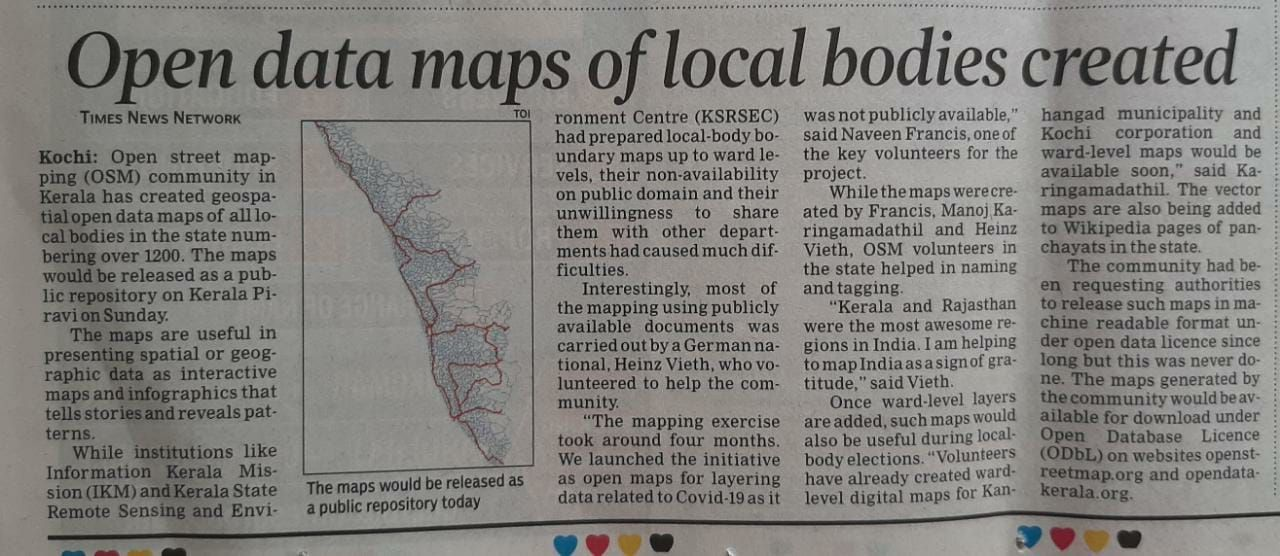 OpenStreetMap Kerala Community Released Kerala Local Body Map dataset. The data is available to download at OpenDataKerala.org
Wikidata celebrated birthday
Wikidata Kerala community celebrated 8th birthday with OSM Kerala and Wikimedians of Kerala. Naveen Francis made a talk on Wikidata + OpenStreetMap and its use cases across Wikimedia and non Wikimedia projects. On the occasion, Community started the task of adding @m3dbteam's identifier links of films and artists to Wikidata.
National seminar on Vattezhuth
St. Jospeh's College Iringalakkuda conducted national seminar On Vattezhuth. Vattezhuth is a traditional writing system used back 15th century. Many suject matter experts were present. Cibu C. J discussed  of Vattezhuth in detail.
Bitwarden localized to Malayalam
Bitwarden, an open source password manager has been localized to Malayalam. The localization effort includes Bitwarden for Mobile, Desktop,Browser and Web.
Ezhuthu Font Released
Rachana Institute of Typography released a new handwritten lookalike font - Ezhuthu designed by famous Calligrapher and artist Bhattathiri.
Full disclosure, RIT earlier made statements against SMC and we are still waiting for a response for our posts.