SMC Fonts are updated for Fedora 30
Instead of the monolithic fonts-smc package, From Fedora 30 onwards, users can use the updated fonts in atomic packages like smc-rachana-fonts, smc-meera-fonts,  smc-anjalioldlipi-fonts, smc-raghumalayalamsans-fonts, smc-dyuthi-fonts and smc-suruma-fonts.
Rajeesh KV put his efforts on packaging SMC fonts to Fedora. His blog post details technical information.
Varnam Gets an Editor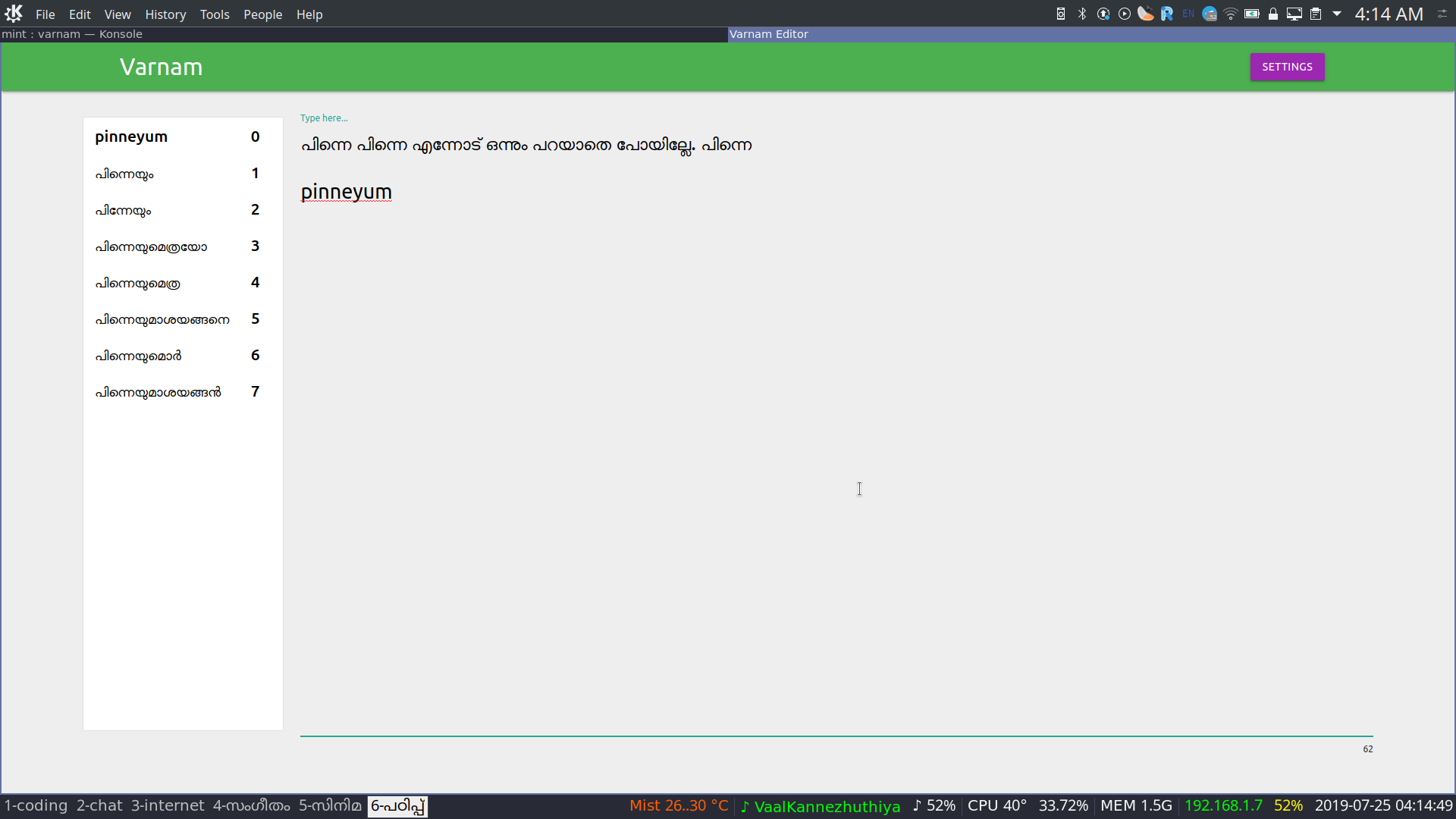 Subin Siby packaged an editor for cross-platform transliteration tool - Varnam. This editor is available as a flatpak package flatpak supported distributions. Further instructions are available from developer's blog post .
ICANN Released Label Generation Rules for Eight Indian Scripts Including Malayalam
ICANN released Label generation rules (LGR) for eight scripts Devanagari, Gurmukhi, Gujarati, Kannada, Malayalam. Oriya, Tamil, Telugu. This will enable Internet domain names (IDN) in these languages. This addition will make number of Indian scripts supporting LGR into 15. SMC volunteer, Santhosh Thottingal was a key person in preparing LGR for Malayalam. His blog post  details more about Root Zone Label generation rules.
'Virus' Team Apologised and corrected the attribution problem
Aashiq Abu (director) and Rima Kallingal (producer) of Virus the Movie apologised for not giving attribution to the use of Kozhikkode district map. The map was uploaded to Wikimedia Commons by SMC volunteer, Jaisen Nedumpala under creative commons attribution 3.0 unported. Aashiq and Rima thanked to all open data contributors including Jaisen for their word and contributions.
"This is a proud moment for activists, not alone for the recognition, but for the awareness this incident has made." - Jaisen commented accepting the apology.
Debian 10 Buster Released
Latest stable of version of Debian operating system - Debian Buster released. Available with various desktop environments, numerous updates including Malayalam language support is included in this release. Release parties were hosted across Kerala to welcome the release.